10-day theatre fiesta comes to end
Neha Saini
Tribune News Service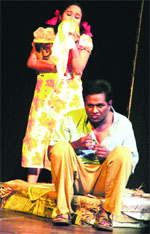 Aakash during the festival. Tribune photos
Amritsar, December 17
The 10-day theatre fiesta came to an end only to leave the audience asking for more and with performing theatre groups happily obliging. The annual National Theatre Festival organised by Manch Rangmanch at Punjab Natshala drew curtains with Draupadi, a play directed by Chandradasan. And going by the success of the 10-day event, the organisers are content that Amritsar has finally arrived on the theatre map of the country.
"We had already hosted some of the best theatre groups with our national and international theatre festivals. And this time too, the audience support and encouragement has made us plan these events frequently," shared Kewal Dhaliwal, organiser and a prominent theatre personality from the city.
The theatre festival hosted 10 theatre groups from across the length and breadth of the country, right from Jammu and Kashmir to Kerala, Jodhpur to Kolkata. With critically acclaimed plays like Draupadi, Math Ke Raste Me Ek Din, Yamlila and Karmawali being staged, the festival was high on theatre ethics and quality performances. Some of the theatre groups and directors seemed quite impressed by Amritsar's support towards theatre.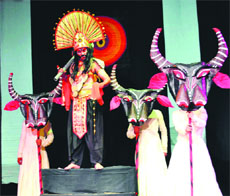 "It was an amazing experience being a part of the National Theatre Festival here in the holy city. I am thankful to the audience for their support and full attendance during all 10 days. The festival was an excellent mix of classic, folk and contemporary theatre and brought together some of the most popular and acclaimed theatre artistes from the country," shared Suresh Bharadwaj, a noted theatre person and director of the play 'Math Ke Raste Me Ek Din'.
Suresh was impressed by the venue chosen. "Punjab Natshala is an amazing cultural and theatre space created with the right amount of ambience and technical support. It's probably one-of-its-kind in the country," he said.
Likewise, Bahrul Islam and Sharad Sharma, who brought their plays 'Akaash' and 'Arey Sharif Log' at the festival, too felt that Amritsar has picked up pace with the other noted theatre hubs in the country.
"It's not just about quality theatre, but also its implementation and understanding. The city has a good theatre audience and its encouragement enough for any theatre artistes to come and perform again," said Sharad Sharma.
As for the future plans, Kewal Dhaliwal is hopeful that bigger and better theatre events become calendar activity in the holy city. "Artists in the city have shared the responsibility along with the artists nationwide to promote the cause of theatre in the city. If only the government would take note and chip in with some assistance, we can have more such activities on a much better scale."
Labels: Chandradasan, Draupadi, Lokadharmi